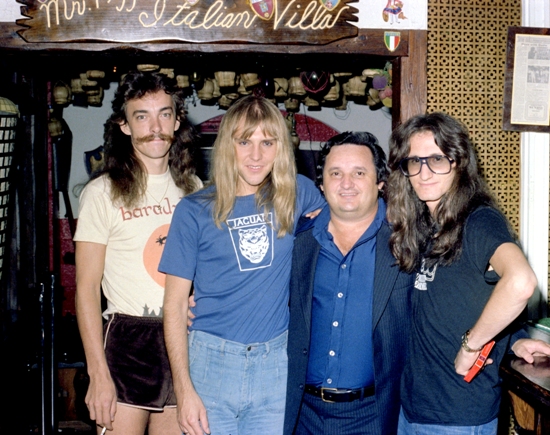 By Metal Dave
Restless and wild as a San Antonio teen during the 1980s, my music collection and high school memories were immeasurably impacted by legendary deejay, Joe "The Godfather" Anthony.
In those days, radio was more Mi Tierra than McDonald's, meaning a maverick like Joe Anthony could spike the homogenized mix of corporate overkill with personal flavors from his home collection (see Legs Diamond versus Led Zeppelin). Thanks to  Joe and his longtime KMAC/KISS FMpartner Lou Roney, once-obscure bands like Rush (Canada), the Scorpions (Germany), Saxon (Great Britain) and Queensryche (U.S.) were rock stars in San Antonio before they signed an autograph outside their own ZIP codes.
With Joe at the helm, San Antonio earned a worldwide reputation as the "Heavy Metal Capital of the World." Where else could Budgie rival Boston? Where else could Angel Witch share air waves with Aerosmith? Where else were The Godz treated as such? I'll tell you where: Nowhere! That's where!
Rather than autopiloting albums forced onto radio by music industry robots, Joe instead offered us impossible-to-find imports and underground debut albums. When most of America was introduced to the Scorpions by way of the band's 1982 breakthrough album, "Blackout," San Antonio – thanks largely to Joe – was already familiar with the band's preceding seven albums. Seven! Ditto Judas Priest.
Of course Joe's early endorsement of Rush is perhaps his greatest claim to fame (go ask Geddy Lee … and his banker). Thanks to early spins from Joe, this enduring best-selling Canadian band — for all practical purposes — actually catapulted out of San Antonio, some 1,500 miles from home. Keep in mind that this countdown to stardom took place back when tape-trading and word-of-mouth were "the Internet" of the day. In other words, the odds of Rush becoming millionaires by way of Alamo City were more complicated than a Neil Peart drum solo. Distant early warning? Indeed.
Triumph is another Canadian trio that owes its fame to Joe. In San Antonio, "The Blinding Light Show" was every bit as air-guitar epic and cosmically nonsensical as "Stairway to Heaven." Add falsetto-to-the-heavens hit songs "Never Surrender," "Fight the Good Fight" and "Lay it On the Line," and – BAM! — suddenly Joe Anthony is an honorary member of the band (it's true … look it up). And how about the exhaustive list of other Joe-approved Canadian bands? Anvil, Helix, Aldo Nova, Killer Dwarfs, Moxy, Max Webster, Saga, Coney Hatch, Frank Marino & Mahogany Rush, April Wine, Etc., etc., et…
From soon-to-be household names like Judas Priest, Iron Maiden and Def Leppard (Great Britain) to somewhat lesser-knowns like Accept (Germany), Krokus (Switzerland), Yngwie Malmsteen (Sweden) and Loudness (Japan), Joe's global treasure hunt put the world's most precious metals right in my backyard. Ask Rob Halford about the importance of Joe Anthony and the Metal God will graciously surrender a litany of superlatives and heartfelt thanks. I know. I've done it.
And the concerts? Thanks to Joe and San Antonio, rising bands like Motley Crue, Great White, Quiet Riot, Fastway, WASP, Dokken and Rose Tattoo enjoyed big crowds (and plucking groupies) at Hemisfair Arena before they'd fully escaped the drink-n-drown club circuit (OK, nix the groupies on Rose Tattoo … and, um, all but the singer of Fastway).
Need more? How about Riot, Montrose, Axe, UFO, Heaven, Killer, Starz, Y&T (when they were still known as Yesterday & Today), Mama's Boys, Raven, Dirty Looks, E-Z-O and Baron Rojo? All came to my attention courtesy of Joe "The Godfather" Anthony.
Of course, I'd be remiss if I failed to mention Joe's unwavering support of local and regional acts like Prezence, Pariah, Juggernaut, Mox Nix, Pantera and many, many more.
Yes, like Joe's legacy, the list of bands goes on forever (and ever). Sadly, "The Godfather" died in 1992, but I've still got a few hundred vinyl records that keep his spirit alive.

I could never do Joe Anthony justice in the finite space of this blog, but I hope this trip down Memory Lane was enjoyed and appreciated by all who were there.
RIP Godfather … and thanks upon thanks for all your hard rock!
Joseph Anthony Yannuzzi (1936-1992)
2Fast2Die/Metal Dave Glessner would also like to thank: Tom "T-Bone" Scheppke, Debbie "The Electric Lady" Alcocer, John Lisle and Steve Hahn for years of listening pleasure (and unintended corruption). You rock!
BELOW: Two of my favorite gems courtesy of Joe Anthony: Starz and Riot