The above photo was taken at San Antonio's Hemisfair Arena (RIP) when I snuck into soundcheck on the afternoon of an Iron Maiden/Anthrax gig in 1991. Armed with a stack of records, I literally walked into the empty arena and found Anthrax on stage performing Judas Priest songs. Pressing my luck, I marched all the way to the edge of the arena stage until I was nose-to-Adidas with Anthrax.
Suddenly, I felt a tap on my shoulder and knew it could only mean trouble. I did my best to ignore it, but of course the jabbing persisted. Reluctantly, I turned to meet Mr. Buzzkill who was sure to kick me out of my private concert. Pointing at the All-Access pass hanging from his neck, my nemesis motioned in such a way that said, "Hey jackass! Where's your pass?" I motioned that I couldn't hear him. His eyebrows arched into a devilish "V" and he rabidly barked, "Where's YOUR P-A-S-S?!?!?!"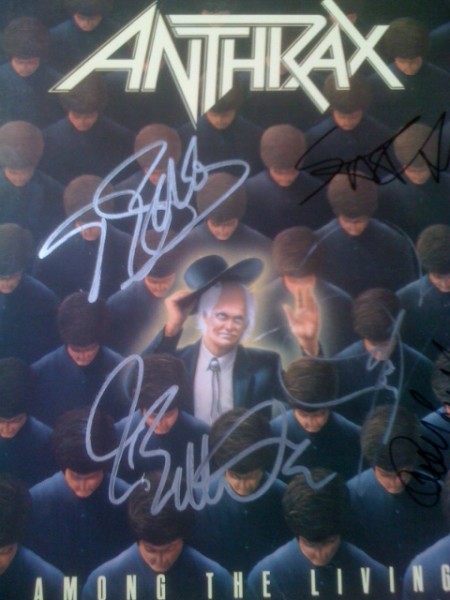 Desperate, I pointed to Anthrax bass player Frank Bello and yelled over the music with all the authority I could muster: "I'M WITH FRANK!!" Seeing my pathetic plea, Frank wandered to the edge of the stage — still rocking, of course — and gave the goon a knowing nod that said, "It's cool, dude, he's with me." I couldn't believe it! Frank flashed me a grin, Mr. Killjoy took a hike and I was once again VIP at my own private Anthrax gig. Yes!
After two or three songs, Anthrax finished jamming and was immediately ordered backstage before the guitars could finish buzzing. Damn! They were gone before I could say hello.
On a mission to track them down, I started wandering the backstage corridors. I opened a door and was suddenly standing in the tour bus parking lot where I noticed a small crowd of fans waiting to buy tickets on the other side of the fence. A few of them started motioning frantically in my direction. Hmmm. What's up with them? I peeked around the corner to see what was wrong. Uh-oh. Cop!
With the fans outside the fence serving as my lookouts, I began a game of cat-and-mouse around one of those High-Voltage generators. The fans would motion to tell me where the cop was and I would tip-toe in the opposite direction around the generator. This continued for about 15 minutes and actually became quite comical as the cop was completely clueless.
Next thing I knew, Anthrax singer Joey Belladonna stepped off one of the tour buses. Knowing I would get busted if I left my hiding place, I nonetheless seized the opportunity to get an autograph and this photo with Joey, who quickly passed my album on to the bus for additional signatures. And then? Busted!
As the cop escorted me to the gate, he scowled and asked, "Didn't I catch you doing this last month at a concert at Sunken Gardens?" Um, yes sir, that would be me. "Don't let it happen again!" Absolutely not, sir!
And, of course, I haven't done it since : )
For more on Anthrax, including the current tour that stops at Emo's East in Austin Oct. 29 go here.