By Metal Dave
Remember calling your weed guy from a pay phone on the way to a local metal gig? You were driving a junker that barely passed inspection while following a sketchy map on a hand-drawn flyer emblazoned with skulls and the promise of doomsday (plus beer!).
Maybe you listened to your friend's demo cassette along the way while pondering the impossibility of Iron Maiden and Judas Priest being challenged by emerging neck-thrashers like Metallica, Exodus and Anthrax.
"As Viewed From The Pit" is a literal snapshot of those times captured in South Texas from 1978-1989 when San Antonio was globally recognized as the Heavy Metal Capital of the World.
Compiled by lifelong Texas metal fan Juan Herrera, the glossy photo book casts its net across South Texas to include not only San Antonio, but also Austin, Houston and Corpus Christi. The bands, of course, take center stage thanks to the photo collections of Jeff Tweedy, Liliana Martinez and Phil Adams, among others, but Herrera understands no old-school music scene is complete without the street-level flyers, ticket stubs, T-shirts and demo cassette artwork, which also get due space.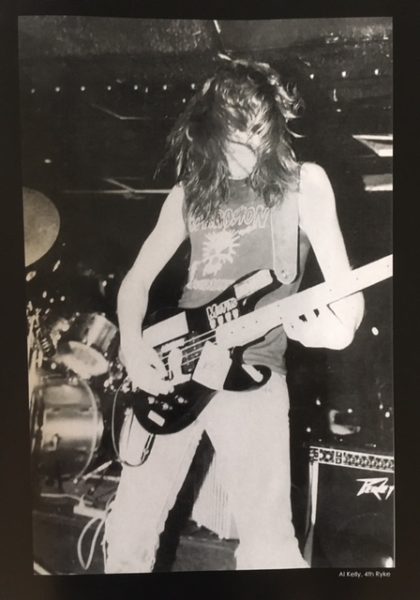 As for the bands, San Antonio's bragging rights go to Juggernaut (whose drummer Bobby Jarzombek went on to play for Rob Halford, Sebastian Bach and Fates Warning among others); S.A. Slayer (whose drummer Dave McClain went on to spend years in Machine Head while bassist Donnie Van Stavern joined Riot) and longtime local favorites Byfist, Winterkat, Heyoka, Heather Leather and Wyzard along with Valkyrie, Morbid Termination and Death Tripper.
Not to be outdone, Austin is heavily (pun intended) represented by prog-metal pioneers Watchtower (whose singer Jason McMaster would later be seen and heard on radio and MTV as the singer for Dangerous Toys) and Militia — both of whom opened for a fledgling (L.A.) Slayer at the Ritz on Sixth Street in 1985.
In Houston, the nods go to Helstar and Dead Horse, while Corpus Christi checks in with Devastation and Angkor Wat. And just for good measure, there's even mention of crossover bands like the Offenders (Austin), Fearless Iranians from Hell (San Antonio), DRI (Houston) and Crippled By Society (San Antonio).
In a book full of cool memories, perhaps the coolest is the legendary Slayer vs. Slayer gig at Villa Fontana in San Antonio on Nov. 30, 1984 (with Militia and Syrus opening). Often remembered as a battle for the rights to the Slayer name, the San Antonio version of Slayer was already disbanded, but reformed for the gig in the name of some spirited rivalry with their Los Angeles brethren. More than any single concert in South Texas metal history, this one is arguably the one most likely to be worn as a badge of honor by all who were there.
Of course, no book about Texas heavy metal would be complete without honoring legendary San Antonio deejay, Joe "The Godfather" Anthony, who not only gave air time to local bands, but also helped introduce international acts such as Rush, Triumph, Def Leppard, Scorpions, Saxon, Accept and countless others who readily admit to owing him and the San Antonio faithful the deepest debts of gratitude. It's safe to say that without Joe (and fellow deejay Lou Roney), San Antonio would never have gained worldwide acclaim as the Heavy Metal Capital of the World.
As its title implies, "As Viewed From The Pit" lets the photos do the talking, but it must be said that the Forward by Texas metal archivist Reuben Luna does a great job of summarizing this vibrant and legendary music scene. He would know; he was there.
Cover-to-cover, "As Viewed From The Pit" will stir the memory of anyone — Texan or otherwise — who strapped on the studded wristbands, banged their head in the pit and lived hard and fast for another night at the whiplash orgy. Go ahead, dive in!
For more info and to purchase, visit "As Viewed From The Pit."