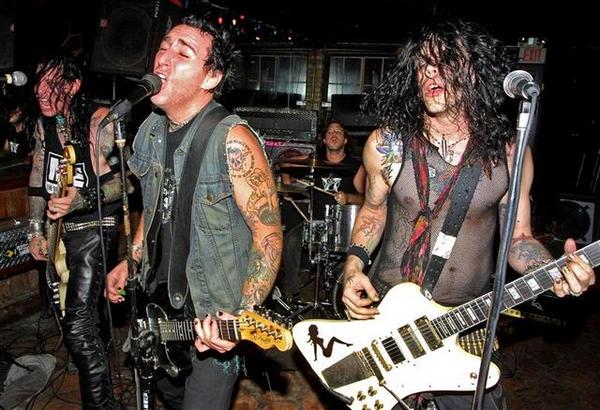 By Metal Dave
As the honorary fifth member of sleaze-metal band, the Crank County Daredevils, I was nicknamed "Cinco" and/or "#5" about six years ago and lived to tell the tale. The band may look like they're from Dracula's Brothel, but they're actually the scourge of Asheville, North Carolina where they ride choppers and literally make their own moonshine when they're not getting tattoos or disturbing the peace.
So how did a nice boy like me fall into trouble like this? According to the Daredevils, they came gunning for me in Austin during SXSW (2002 or 2003?) and found me on a sun-baked Red River sidewalk outside Headhunters. Their plan was to get me interested in the band with the hope I would write about them in Metal Edge magazine or at least blab the name Crank County Daredevils to the long list of questionable characters they knew I called my friends.
Apparently, then-guitarist Adam Fever was nominated, so he walked up to me, handed me a CD and asked if I would check out Crank County Daredevils later that night. Fever was decked out in mirror shades, bullet belts, a patchwork of tats and a dangling cig. Sold! As if my arm needed any more wrenching, the photo on the back of the "Kings of Sleaze" CD was proof that the rest of the pack was equally rabid. These guys were so rock-n-roll that you half expected the sex and drugs to come snapping at their heels like demon-dog puppies. Yikes!
Not only did the band turn out to be frightfully amazing, they also were out of their heads (maybe it was the hooch?). Guilty as charged, these dirtbags were a powder keg disguised as fun, which means we lit up like fire and gasoline. It wasn't long before the Daredevils would start dragging me on stage to butcher Faster Pussycat's "Don't Change That Song."
Over the years, my friendship with the Daredevils would land the band at my house whenever they rolled into Austin for SXSW — or as Velvet so brilliantly coined it, "Debaucherfest." Then there's the night Velvet called me onstage and gave me his CCD "colors" right off his back. Another misadventure found me leading a small posse to Los Angeles in 2004 where we met up with the Daredevils and spent a week marauding the Sunset Strip while the band played a couple showcase gigs (the L.A. decadence was downright toxic). I even got Buckcherry to show up (they thought Crank County was too abrasive, which says a truckload!).
I recently texted Velvet asking if the Daredevils would again descend on Austin this month for Debaucherfest 2011. He said it was doubtful as the band is apparently on hiatus. I'm not sure if I should be depressed or thanking the heavens for divine intervention. Probably a little of both.
If you don't mind risking a contact high and can handle a bottle-smashing adrenaline rush, look up Crank County Daredevils, buy the CDs and get as close as you dare the next time they violate your city.