ABOVE: Ten Boots Stompin: Dangerous Toys in 1989 with Watson far right.
By Metal Dave
It seems a lifetime of rock'n'roll has turned Mike Watson into a stark, raving, uhhhh … miniature tree enthusiast! Say wha? It's true, but more on that later.  
More pressing is welcome news that Watson and his hard-rocking Dangerous Toys are reuniting Dec. 4 to bring their slither'n'grind to the Red Eyed Fly in Austin, TX. As we look forward to "Sport'n A Woody," "Teas'n  Pleas'n" and getting' "Scared," we asked Watson to recall his Toys stories and more. For those who aced the Dangerous Toys history test before 1995, feel free to jump to the Q&A. For those who grew up on Nirvana and Marilyn Manson, I extend my apologies and give you the quick and dirty 2Fast2Die Cliff's Notes below.*  
Born from the ashes of Austin band Onyxx, Watson and Dangerous Toys were discovered and signed to a major record label when such a Cinderella story was still possible (and halfway meaningful). Throughout the late 1980s and early '90s, the Toys played gigs with Judas Priest, Alice Cooper (see B&W photo below), Motorhead and the Cult, among others. Along the way, Watson and the Toys made their mark on radio and MTV, and ultimately sold more than 500,000 copies of their 1989 debut album. A framed gold copy of said album has long graced the walls of 2Fast2Die HQ along with the trademark Dangerous Toys/Texas longhorn skull and Jason McMaster's "Rock-n-Roll is King" leather jacket. Thanks, guys.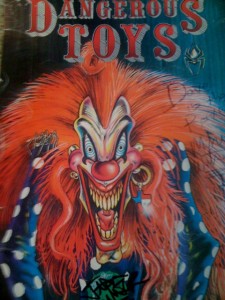 But enough from me. Start Yakking Mike!  
Why did you leave Dangerous Toys around 1995?
The reason I quit Dangerous Toys was strictly financial. While we were recording "Pissed" our accountant stopped by the studio and said, "Sorry guys, there's no more money left. Oh, by the way, you each owe the IRS about 3K for back taxes so get in there and make a great album!" I had just quit my day job to go make the record and my girlfriend at the time was a struggling college student so we were already poor. I am also a diabetic so I had medical bills and no insurance. The time had just come for me to find some way to live and pay the bills so I quit Toys and got a degree and started drafting.  
There was never any bad feelings or animosity between me and the other guys. They totally understood what I was doing and why I was doing it. I am grateful to this day that they didn't hate me or give me a hard time about it. It was the hardest thing that I have ever had to do in my life!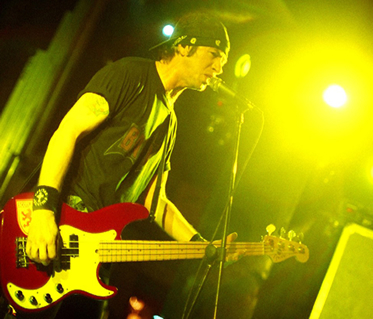 But, all's well that ends well. Years later, Paul Lidel saw me at a party and asked me if I wanted to start doing shows with them again. I agreed in half a heartbeat. Our first real "reunion" show was opening for Alice Cooper and I remember how nervous I was. I wasn't sure if anybody wanted to hear these songs anymore! One girl named Megumi had flown all the way from Japan just to see us play together as a band again. That made me realize that I needed to be in Toys again so, here we are.  
You also were an original member of Broken Teeth for a number of years
I left Broken Teeth because they wanted to go on tour for weeks, possibly months at a time. I was just in the band for fun and couldn't take the time off from my work. I think Paul Lidel has a similar story. Also, while I think that Broken Teeth is a great band and a lot of fun to play in, I just wasn't really into that style of music anymore. I was playing in Brewtality Inc. at the time, which was more like what I was into. My musical tastes are kind of schizo. If you were to look on my mp3 player right now you would see bands like Meshugga, Porcupine Tree, and even American Analog Set. I love the AC/DC three-chords-and-a-beer stuff a much a anyone but I can also get bored with it easily.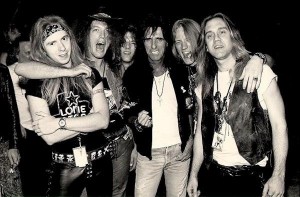 Plug your most recent project
I'm currently playing in the Alice in Chains tribute band, Love Hate Love. I've always liked Alice In Chains so when my friend Duncan Isenhaur said his Alice In Chains cover band needed a new bass player, I jumped at the chance! We do a pretty good tribute to those guys. Duncan looks and plays like Jerry Cantrell and singer Austin Howell does a better Layne Staley than Layne ever did.   
What album changed your life and why?
Gary Numan's "Replicas." I was a depressed teen and regular Goth music was too boring. I needed Sci-Fi Android Goth!  
First concert and your memories of it
Van Halen's "Mean Streets Tour" (Fair Warning) at Frank Erwin Center in Austin, TX. Kraftwerk's "Computer World" was playing on the PA when we got there. I love Kraftwerk, so I thought that was cool. Me and my high school stoner buds were in the nosebleed section smoking joints and drinking smuggled wine. 
Share a touring horror story or Spinal Tap moment
Dangerous Toys once played a crappy club in Arizona and the stage floor had rotten spots that were bouncy like a trampoline. I started bouncing on one spot and went through the stage. That was fun!  
Your best and worst tattoo?
Best: Self-designed Texas tatted by Dave Lum. Worst: All the rest.  
Name of your very first band and other rejected names.
"Scratch" (first one), "Widow Maker" (w/girl singer) and "Reduced Meat" (my personal favorite).  
Musical accomplishment you're most proud of?
Doing gigs with (former Sex Pistols guitarist) Steve Jones and playing at the legendary Hammersmith Odeon.  
In the early '90s, when Dangerous Toys was on tour opening for the Cult, Steve Jones' band got on the bill for a few shows in California. His band was actually slotted before us and I felt weird. I mean, here is the guy who played guitar in the band that was one of my biggest influences both as a musician and as a person, and he's slotted before us! We hung out with him several times, both on the tour and in L.A. while we were recording "Hellacious Acres," and I did my best not to be starstruck. Once, we were at some club in Hollywood and we were both not drinking. I remember he was wearing this long trench coat and when I complained about how much it cost for a bottle of water, he opened his coat and had all of these waters he had snuck in! Stuff like that is what makes me like people.  
Another highlight was touring in Great Britain and Europe opening for Faster Pussycat in 1990 or 91. Our last show in England was at the famous Hammersmith Odeon. I was in awe of the place and thankful to be playing there. The show went OK and there wasn't a huge crowd – our album had just been released only a week or two earlier – but it was still incredible.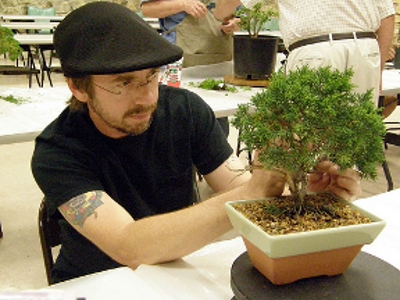 Share a secret. What is your hidden talent, unexpected hobby or guilty pleasure?
Hidden talent: Drafting. Unexpected hobby: Bonsai. Guilty pleasure: Drinking Lo-Carb Monster.
Bonsai, for those who don't know, is the art of pruning a normal tree or bush to make it look like an ancient tree in miniature and then planting it in specially made pots. I was interested in bonsai for a while and then discovered there were a lot of people in Austin who were serious about it. There are even two tree nurseries here that develop the trees to make into bonsai. I joined the Austin Bonsai Society about four years ago and now I'm actually the president! We meet at the Zilker Botanical Garden in Austin on the second Wednesday of every month at 7 p.m. and are always looking for people who are interested in the art. We have a show there every May and you would be surprised at how beautiful a cedar tree (we use local species of trees a lot) or a boxwood can look.  
Hero or villain? Best and worst "rock star" meeting
Hero: Ronnie James Dio – Super nice guy. So sad he's gone.
Villain: Sebastian Bach – Big surprise, huh?  
A big thanks to Mike for being so responsive to my scattershot questions over the past few weeks. Thanks also to Dangerous Toys artist Tommy Pons for all Bill Z. Bub clown imagery.  
FOR MORE INFO ON THE DANGEROUS TOYS DEC. 4 REUNION GIG AT RED EYED FLY IN AUSTIN, GO HERE.
*BTW, 2Fast2Die enjoys and respects Nirvana and Marilyn Manson. Big-time! However, if that era of music is your starting point, you missed out on a lot of hell-raising, hair-metal … Trust me. Thanks for reading. Class dismissed!