According to a source more reliable than my memory, I first met Mykel Foster onboard a Buckcherry tour bus outside a Houston club in December 2008. When a mutual friend later called to tell me he was putting together a new band with "that guy you met on the Buckcherry bus," I drew a blank. "What does he look like?" I asked. "You know, long hair, tattoos …" Ah, yes. Still blank.
While that band proved to be short-lived, it did allow me the chance to reconnect with Foster during rehearsals that found him driving to Austin from Houston. "Oh, THIS guy," I said upon reintroduction. "Now I remember (I think)."
Let's face it kids, details and tour bus parties can be fiercely at odds at 3 a.m.
Once the fog cleared, Foster and I hit it off like Beavis and Butt-head. Today, his latest band is the Houston-Austin, sleaze-rock gang, Southbound Saints, which now features the aforementioned mutual friend Adam Stevens (ex-Crank County Daredevils) on guitar along with vocalist Lance Austin, drummer Chris Jordan and recently added New Disaster double-duty guitarist Abel Idle.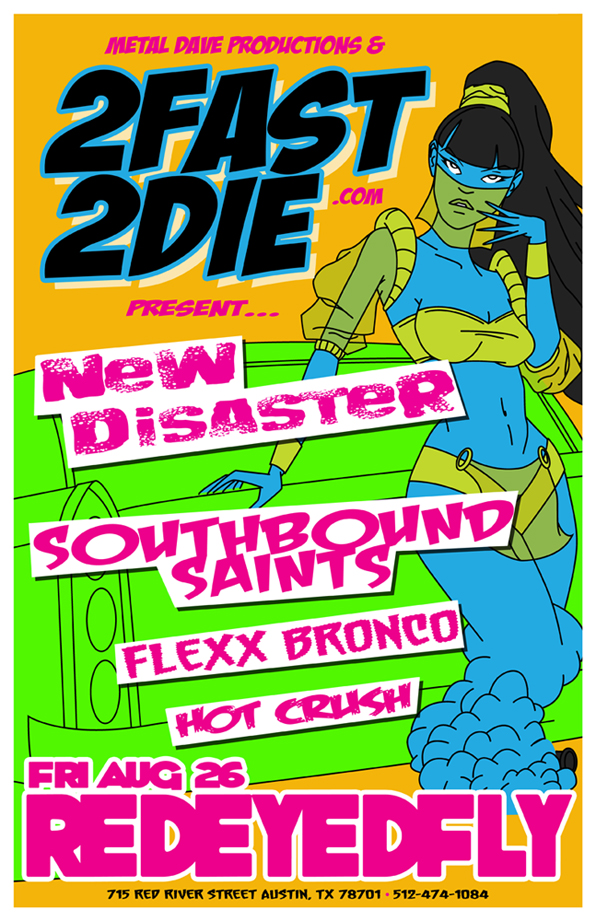 To prime you for the latest Metal Dave Productions & 2Fast2Die gig at Red Eyed Fly on Aug. 26 — featuring New Disaster, Southbound Saints, Flexx Bronco and Hot Crush — I caught up with Foster for some pre-party Q&A.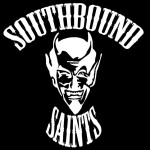 Oh, and big thanks to Miss Lila for dragging me into this fabulous disaster (kidding, dah-ling!).
Start Yakking, Mykel …
Plug your most recent project:
SOUTHBOUND SAINTS, its actually my most exciting project to date! The dust has settled from my earlier bands and prior dead-end projects and I found myself teamed up some new, and familiar faces. Straightforward, hard hittin RnR. It's Sexy and Sleazy in all the right places!
Album that changed your life and why?
That would most certainly have to be the compilation "Punk and Disorderly" volume 1. That album introduced me to real punk rock. Chock full of the UK '77 style that I absolutely loved! It wasn't pretty, but it wasn't supposed to be. Bands like GBH, The Adicts, Chaos UK, Peter and the Test Tube Babies etc… And come to think of it, much later in life I was actually able to play with at least a half dozen of these bands when they regrouped and toured the US throughout the early and mid 90's. I was like a kid in a candy store,  …but the store was a bar, …and the candy was illegal; a punk rock dream come true!
First concert and your memories of it?
Wow??? The first??? That takes me back a bit. …If memory serves correct, that would be Paul Revere and the Raiders back in 1980. Although it wasn't any of the cool mega bands like  "KISS" "ACDC" or "ROLLING STONES" etc etc, but fuck, I was a single digit kid with my parents so my options were a bit limited. I did however catch the bug! I realized that all the eyeballs were looking at the stage, and that's where I wanted to be!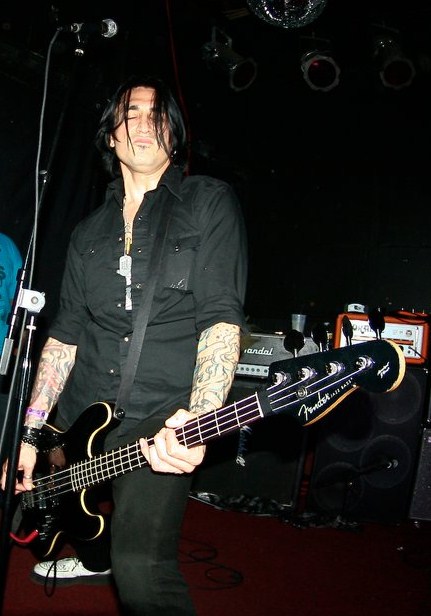 Touring horror story? Spinal Tap moment? Arrested on stage?
Leaving gear on the top of the van, ending up in the next town wondering where it went; Having my bass strap stolen and borrowing one from a significantly SHORTER musician. I once took a cab ride to play an after party for an hour an a half, in AMARILLO, fyi that whole town takes around 30 minutes to cover, clearly I got taken advantage of! Being thrown through a window at another house party, then guns were a poppin'. Passed out out at the airport because of those damn little bottles of vodka and missing my connecting flight to a show. Havin my ass kicked by a CRAZY fat chick in some college town in Texas.
As far as being arrested, "Knock on wood" I was too sly to get picked up by the fuzz! I always seemed to have a great story or a hookup to get me outta a pinch. Bottom line, …lets just say I've seen and done more than most and had my fair share of spinal tap moments, BUT no getting stuck in a cocoon on stage YET.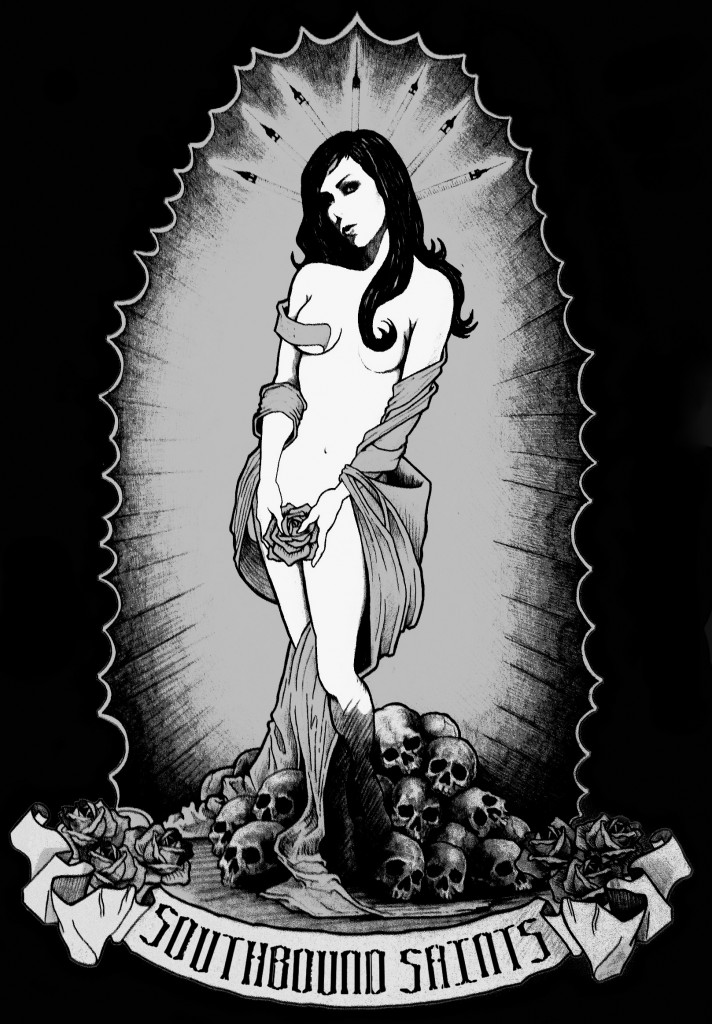 Your best and worst tattoo?
Tattoos, …hmm, that's a loaded question, pretty much all of them are still works in progress. I always seem to find better, more instantly gratifying ways to spend my money at the end of the night. I'd love to get around to getting my back piece finished by Richard Stell, but I haven't seen that cat in years. Speakin' of years, I remember when tattoos were dangerous. The parlour was a seedy and edgy place to hang out. Shop owners and artists openly wore holsters with pistols, and getting Hepatitis was a badge of honor. Nowadays it's a safe and sterile place to hang. It's the just-add-water instant cool thing to do. …Like "…hey mom, drop me off at the tattoo shop, I'll be there hangin out with some friends doing my homework, pick me up at 9". They seemed to have lost their edge.That all being said, my best tattoo? My butterfly in the crotch. My worst tattoo? My butterfly in the crotch.
Name of your very first band and other rejected band names
My VERY first band??? PASS, that shit was waaay too silly to mention, in any version. My first moderately successful band was TREAD. Punk/Hardcore. A very long time ago.
Musical accomplishment you're most proud of?
I have been really fortunate to have worked with amazing people through the years; as well as multiple albums, soundtracks, and commercials, but I have YET to achieve my musical goals! I do believe that time is now and the SOUTHBOUND SAINTS are well on our way to establishing ourselves leaving our musical footprint.
Share a secret. What is your hidden talent? Guilty pleasure? Unexpected hobby?
Well if I told you, it wouldn't be a secret, now would it? I have way too much dirt and too many stories to start runnin' my mouth, I'd be shot. Guilty pleasure? VODKA, LOTS of MONOPOLOWA VODKA. I just can't seem to get enough of that shit!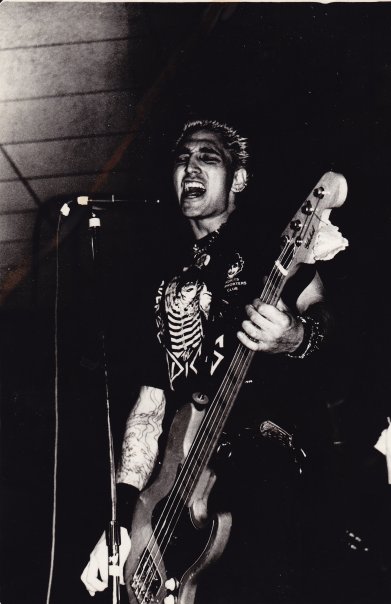 Name a rock-star encounter that left an impression?
As far as rock stars and the like, ..I know many, and have hung with several, but one who sticks out would be Cheetah Chrome. I learned the dark side of being a punk rock legend, and he was a great guy, but a fuckin MESS!
For more Southbound Saints info, go here.

For more info on the Aug. 26 "Metal Dave Productions & 2Fast2Die Presents" gig featuring New Disaster, Southbound Saints, Flexx Bronco and Hot Crush, go here.
Watch the Saints covering The Damned's "New Rose" at Houston's House of Blues below (audio is muddy and the song doesn't get cranking til the 1:21 mark, but you get the idea … it's rock-n-roll!!)
Random photo thanks to Tre Ridings, Daniza Villareal and "The O"
[youtube QsDOJhLa8aM]