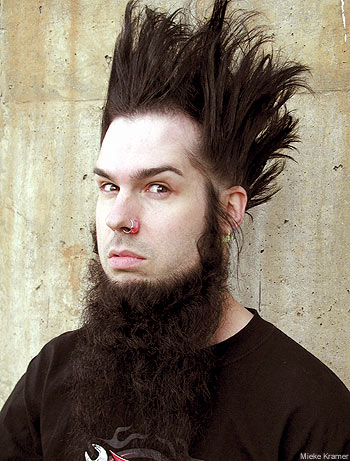 By Metal Dave
For those who don't know, those bullet-sleek, customized, luxurious rock'n'roll tour buses are sorely lacking when it comes to toilet plumbing. In a 2002 interview with Static-X frontman Wayne Static, the conversation inevitably turned to potty talk when I inquired about the song, "…In a Bag," from the industrial-metal band's 2001 sophomore album, "Machine." Talk about shooting the poop!
A lot of people don't realize tour buses are ill-equipped for flushing toilet paper
That's probably the worst part about touring. You get up every morning and you're like, 'Hmmmm, let's see, I've gotta find somewhere to shit.' If you're at the venue and it's not too early in the morning, you can go inside. But if you're an unlucky soul and the bus is driving at night, you have to go up to the driver and say, 'Dude, I gotta find a gas station.' We decided to write a song about the anguish and feelings of guilt that come with doing the (#2) act (in a bag).
On the disappearance of original lead guitarist Koichi Fukuda who would ultimately return in 2005 following the arrest of his replacement, Tripp Eisen, on statutory rape charges
It was definitely not an amicable split. He literally disappeared and we didn't know where he was for a month. We were calling his parents in Japan asking if they'd seen him, because we thought he was lost or dead, or something. Eventually, we tracked him down. He was at his house hiding from us. I mean, how pissed does that make you? He's our business partner, ya know?
On the fan feedback that inspired "Machine"
We asked a lot of the fans what they liked about the first record and tried to retain those elements. I wanted everyone who bought the first record to buy the second one and say, 'Yeah, it's fuckin' awesome!' I thought it was important to keep our integrity with our fans and reward them for sticking with us. On our (next) record, though, we're going to sell out and do all power ballads.