When AC/DC guitarist Malcolm Young phoned my house in 2000, I was certain a friend was prank calling me. In a cartoon voice that sounded like a chain-smoking Popeye, Malcolm's Scottish accent wheezed into the phone asking for "Die-vit Guh-lesshneh." When I told him it was me, he informed me I was talking to "Mahl-kim Yoong from Icey/DC."
At the time, AC/DC was promoting its 17th album, "Stiff Upper Lip" and was due for a tour stop in San Antonio. The gig was stellar as the aging band did a near 50-50 split of material from singers Bon Scott and Brian Johnson (perhaps more impressive was the fact they did it again eight years later on the "Black Ice" tour).
With due respect to Malcolm's masterful rhythms, Johnson's frightfully ravaged vocals and the swaggering thud of bassist Cliff Williams and drummer Phil Rudd, it's the maniacal head-banging of demonic school boy lead guitarist Angus Young that has always been the highlight of AC/DC's live show.
"Angus is a star, there's no doubt about it," Malcolm said of his brother. "Taking nothing away from Bon and Brian, but how are you gonna compete with that? We worry about him rolling around on stage like that."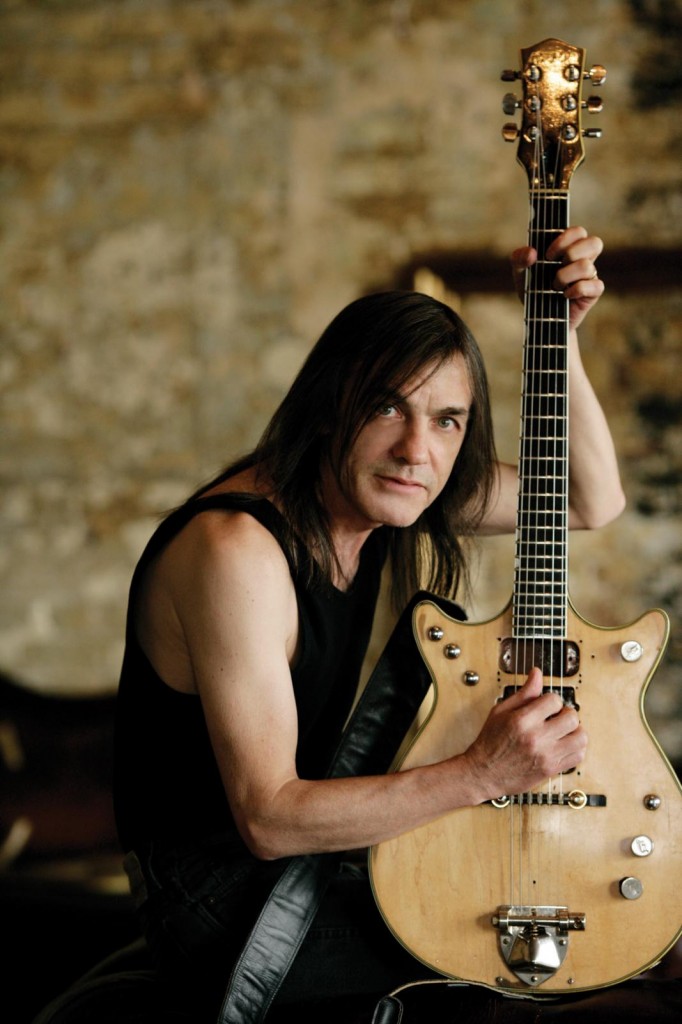 On the unenviable task of informing Bon Scott's parents their son had died in 1980 after a night of binge drinking.
"Somebody from the band had to do it," Malcolm said of his nerve-racking phone call. "The British press was all over it. It's something you never wish upon anyone — having to call up and tell someone their son is dead. For a minute we thought maybe we should have some higher-up from the label do it; somebody a little more elderly. But we decided it was better coming from the band, 'cause (the Scotts) knew the band."
On Bon's infectious charisma
"Even in the first few weeks he joined the band and nobody knew our name we'd be traveling 2,000 miles across the desert and we got flat tires and a blown-up radiator," Malcolm recalled. "We pulled into a garage in the middle of nowhere and the guy working there would be, like, 'Hey, Bon Scott!' People knew him everywhere. He was just a likable person. He also liked to read and write. Besides the wild man, he was also a complete gentleman."
On singer Brian Johnson who took AC/DC to monumental heights with the release of "Back in Black"
"Besides being an amazing singer, he was working-class like us," Malcolm said. "We all left school around 15, 16. We were all apprentices in the metal trade. Brian was a paratrooper in the military for a while so we knew he was one tough (fella). He's just a no-bull(expletive) guy."
On his four-month leave of absence to loosen his death grip on the bottle in the middle of the 1988-89 "Blow Up Your Video" tour
"I was drinking to the point that I was never sober," Malcolm said. "After 13, 14 years, it all caught up with me. I wasn't eating properly and was losing control of my role in the band. Plus, we didn't have Phil anymore and I wasn't into that. I was basically worn-out 'cause we were nonstop drinkers. It feels good to be complete again."
[youtube KF25AoinTe0]