After years of daydreaming and wishful thinking, I finally landed in Hollywood for the first time around 1997. It was a lifelong goal of mine to party on Sunset Strip and visit the clubs that birthed the likes of Van Halen, Quiet Riot, Motley Crue, Poison, WASP and all the other lipstick junkies and loaded Guns who provided the hair-metal soundtrack to the 1980s decade of decadence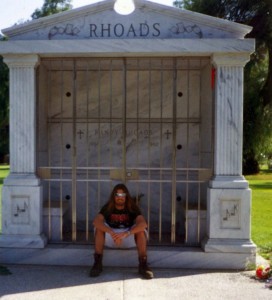 Before finding my way to the Rainbow, Whisky, Viper Room and Coconut Teaszer, however, my first request to my friend Bob who picked me up at the airport was to get me to Randy Rhoads' grave in San Bernardino — which I was begrudgingly told was some two hours away in California rush-hour traffic. "Aw, what the hell?" Bob shrugged, like someone who was unaware of the greatness of Rhoads. "You made the trip and if you wanna see this guy's grave, then so be it."
In the days before Google, my only source to the whereabouts of Randy's resting place was a used book I had been holding onto that outlined all the memorable rock-n-roll sites in California. Thanks to that book, I knew Randy was buried in Mountain View Cemetery in San Bernardino — and that was about all I knew. Onward, Bob!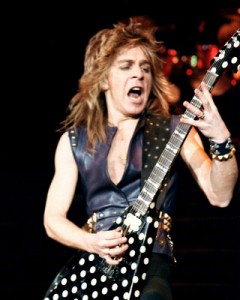 We finally get there and start looking for the RHOADS memorial that matched the picture in the book. This being a Tuesday afternoon, we had the place all to ourselves. Surprisingly, Randy's grave didn't jump out at us right away. I was half expecting a gaggle of headbangers to be our point of reference, but we just kept wandering in silence among the trees and headstones. Finally, we saw it. Just like the picture in the book. Amazing! To see something like that in person at a time before the Internet made everything instantly familiar was pretty damn impressive. Randy Rhoads has always been my favorite guitarist and here I was halfway across the country standing in the presence of guitar-hero greatness.
Like the statue of Stevie Ray Vaughan in my adopted hometown of Austin, Randy's grave was decorated with trinkets left by fans. There were guitar picks, an Ozzy Osbourne "Diary of a Madman" cassette case, wilted flowers, withered sheet music and other odds and ends. I just marveled at the reality of being there. Speechless! Mission accomplished. Thanks, Bob.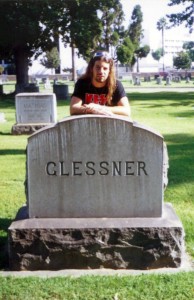 As we turned to leave, I got an even bigger kick in the head. Not far from where my favorite guitar player was buried stood a huge headstone bearing my surname, which is definitely NOT Smith, Johnson or something else fairly common. What are the freakin' odds that a GLESSNER would be buried near RHOADS? I have to admit it was more eerie than exciting at first, but once the honor of it all sank in, I realized I was leaving San Bernardino with one of my favorite rock-n-roll stories. 
RIP Randy Rhoads (1956-1982). Your music is immortal.
[youtube 9xKJOjpZbZ4]