By Metal Dave
When it comes to bulletproof credentials, Chris Gates is rock-n-roll Kevlar.
During his early years with the Big Boys, Gates helped pioneer the punk-funk template that was equally pillaged and praised by everyone from the Red Hot Chili Peppers and Henry Rollins to the myriad bands that rock Austin's annual
Big Boys-indebted Fun, Fun, Fun Fest.
With Poison 13, Gates was again heralded for merging punk-rock ethos with the ragged glory of rattle-the-neighbors garage-rock.
By 1985, Gates was dabbling in Hollywood where he formed Junkyard and shared stages with Guns N' Roses, Jane's Addiction and the Black Crowes (who actually toured as the opening act for Junkyard).
Compared to the late-'80s puckered-up Spandex scene, Junkyard was far too gnarly and crude to become a household hair-metal punch line. Congrats, guys!
When Austin finally called Gates home, he unleashed his Charter Bulldogs and won favor with Junkyard fans who relished his newfound smear of southern-fried blues stained with gearhead grease-n-grime.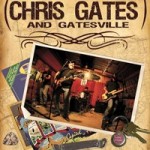 Today at age 50, Gates' true Texas colors paint the sound of Gatesville, a gruff-n-tumble, southern-rock foursome that rivals Thin Lizzy, the Allman Brothers and Lynyrd Skynyrd for all-guns-blazing, dual-guitar firepower.
I recently caught up with my buddy Gates to yak about his musical past and present. Fire away, my friend …
Plug your most recent project
Chris Gates & Gatesville … Southern Rock … 'Nuf said.
Album that changed your life and why?
Damn! Top 3 … 1). "Machine Head" by Deep Purple. I was 12 (1973) and a kid brought it to a church youth group party. I had been buying records for a few years already and listening to a lot of radio, but side one of "Machine Head" blew my mind. We listened to it over and over all night 2) & 3). "Small Change" by Tom Waits and "John Prine" by John Prine. I heard them both the same afternoon at a friend's house in 1975. His mother played them for me. I had never heard songwriting like that before. Nothing was the same after that.
First concert and your memories of it?
I grew up near the UT campus and my best friend and I used to sneak out after our parents went to sleep and go to the clubs near the campus when we were like 10 years old. I saw a ton of very cool live music that way. My first OFFICIAL concert was Three Dog Night in 1973. My mom dropped me off in front of Palmer Auditorium by myself. I couldn't find anyone else who wanted to go. I went in and watched the show. They were amazing.
Your best and worst tattoo?
Happily, I like all of my tattoos. I DO have one on my right hand that I have no memory of getting, and it's hard to tell what it is (a heart with a crown of thorns and arrows stuck in it…). I was in Dallas hanging out after a Poison 13 show and there was this biker tattoo dude who set up inside the club and was giving away free shitty tattoos. I remember talking to him and we were going to go back to his shop after the club closed to do something, but I apparently couldn't wait, and couldn't sit still either. I woke up the next morning on my buddy's couch with my hand stuck to my T-shirt. When I peeled it off I found the tattoo. Alcohol and youth are not always a good idea.
Name of your very first band and other rejected band names
My first real band was the Big Boys. The Big Boys and Poison 13 never really had any other names. When I moved to L.A. to start what became Junkyard one of the names I considered was "CRACK." I liked the sound of it, but while I was putting the band together the drug showed up and ruined THAT name.
Musical accomplishment you're most proud of?
All of them … and that I'm making the best music of my life NOW
Share a secret. What is your hidden talent? Guilty pleasure? Unexpected hobby?
I love to cook, BBQ, etc…
For more on Gatesville, go here.
BELOW: Watch and weep as Gatesville shreds a classic
[youtube jZMZ-rrUrvo]