By Metal Dave
It's no secret the Ramones are 2Fast2Die's all-time favorite band so it's always a thrill to rub black-leather elbows with New York's pioneering punks. Three of the original members are no longer with us (RIP), but the Ramones' legacy forever remains too tough to die (I told you it's no secret).
The photo above was taken in 1998 in the old "backstage" area at Stubb's in Austin when I landed on the couch with Marky Ramone (who is alive and well), on an evening when he was headlining with his post-Ramones band, the Intruders.
At the time of this photo, my friends Belligerent 86 were blasting their gob of beer-belch punk rock on the other side of the wall to my left. Also on the bill this evening were comedic Indianapolis-based, punk-slob geniuses Sloppy Seconds. For me and the guys in Belligerent 86, this gig was a dream come true. Sloppy Seconds were our lyrical mentors (look them up) and they rarely visited Austin. As proud as I was of my Belligerent buddies for landing this gig, and as much as I wanted to laugh out loud while sloshing beer on the feet of Sloppy Seconds, I just couldn't resist the chance to stay backstage and gab with a Ramone.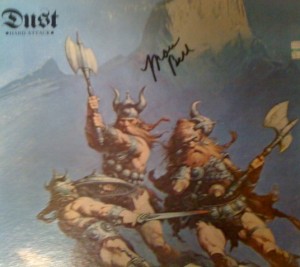 My spot on the couch was more than dumb luck thanks to longtime former Ramones publicist Ida Langsam. After interviewing Marky a few times in previous years, the Ramones drummer has always been gracious enough to allow me a seat in his van, backstage or wherever (I think he's still impressed that I own a vinyl copy of his 1972 Dust album, "Hard Attack," which I insisted he autograph with his birth name, Marc Bell, at an in-store signing session in Houston one year). It also didn't hurt that Marky's bass player on this night was Johnny Pisano who always looked out for me whenever he was in town (ahhh, tequila with Jesse Malin).
With Marky on the wagon and guzzling coffee instead of alcohol, I got to pick up the slack on free beer. As always, conversation with Mark inevitably veers into gig biz as he always wants to know how much local promotion was done, how many people are waiting outside the venue, how popular are the opening bands, how available is his latest album at local stores??? etc. etc.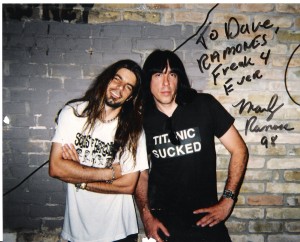 You'll notice the photo to the right is also on the table in the picture above (underneath my foot). Not coincidentally, that shot was taken by Belligerent 86 frontman Houston Ritcheson when Marky brought the Intruders to Austin's long-gone Bates Motel circa 1996. Obviously, I had it autographed backstage at Stubb's, and it remains one of my favorite photos. Marky was especially tickled to see his "Titanic Sucked" T-shirt, which had apparently been long lost and all but forgotten until I produced this photo.
The "alley shot" is also memorable because Marky and I walked to his nearby van so he could dig up a used drumhead, autograph it and hand it to me as a gift (he was selling them at the merch booth inside the venue). It goes without saying that battered beauty still hangs proudly at 2Fast2Die HQ.
Gabba, Gabba Hey!