By Metal Dave
The photo above looks calm enough, but it's surrounded by some crazy before/after stories. Thanks to my pal Jason McMaster and his longstanding friendship with mighty metal singer John Bush (above), I've had awesome access to Anthrax (and Armored Saint) over the years. Obviously, great access = great stories, but not everything is caught on camera, which is probably a good thing — especially if you jump ahead to Day 3 below. Not even Quentin Tarantino could dream up THAT scene!
Here then are a few photos capturing the more serene moments in an otherwise crazy couple of days in the year 2000 with New York's iconic moshing metallians, Anthrax.
DAY ONE: Jason calls to tell me Anthrax is offering him guest list spots and backstage passes to a gig in San Antonio that also features Megadeth and Motley Crue. Do I wanna tag along? Hell yeah! Just so happens I've also recently begun writing for Metal Edge magazine so a review of the concert will be one of my first assignments. We get there and immediately get comfortable in the Anthrax dressing room before the band hits the stage. We get to watch the set up close in the photo pit and, of course, Anthrax rocks (Bush came off like a hooded boxer on the hunt for a TKO). Next, it's back to the dressing room for a quick drink before Megadeth. Mustaine and company turn in a sturdy set and then Motley takes over and rules the night. With media credentials, I watch from the photo pit on Nikki Sixx's side of the stage (above). Sweet. Following goodbyes to Anthrax, we drive home to Austin. Four days later, Anthrax would be dropped from the tour due to slow ticket sales or bickering (or both), so we were lucky to see the full bill. So far, so calm. Things are about to change.
DAY TWO: Bush calls Jason and says Anthrax will be spending their night off in Austin on their way to their next gig in Killeen. Wanna meet for dinner and show Bush a good time? Hell yeah! We meet Bush and a couple of Anthrax roadies (Kyle and another guy who looked like Sideshow Bob from "The Simpsons") at Austin's famous Threadgill's restaurant, which is conveniently located next to the Yellow Rose strip club. Dinner is awesome and our out-of-town guests are thoroughly impressed with the down-home Texas cooking and the fact that Janis Joplin used to sing here. So far, still calm.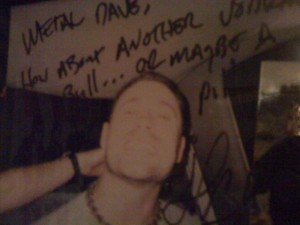 NIGHT TWO: With dinner finished and time on our hands, we naturally wander over to Yellow Rose where Jason is, of course, treated like local rock royalty. The owner greets us, we're escorted to a table and the girls start flocking around. In this environment, Jason is a bigger star than the singer for Anthrax (who, along with me, is nearly invisible). The calm is about to subside. Bush orders a Red Bull and vodka, which in the year 2000, was still an unknown mix to me. Really? Weird. OK. Bush convinces us that the mix is a magical elixir so we take his word and indulge. Now, I've known Jason for about five years at this point and am willing to bet the farm I've never seen him finish a beer (to this day he is not a drinker). A serious prodding by Bush prompts Jason to drink a couple (which is a couple more than usual). I've never seen Jason laugh so hard. He was loose without being tanked and we were reveling in his good spirits. Bush and I quickly begin to outpace Jason by a large margin and the good times veer into giddiness. Thanks girls, time to go. Outside, I sit shotgun alongside Jason while Bush and roadie Kyle take their places in the back seat. I turn around to snap a photo of Bush who is grinning like a jackal (pictured above). In the time it takes me to wind the disposable camera and turn back around for shot No.2, Bush is out like a light. Done. Toast. Hilarious. I spare him the embarrassment and put the camera away. Next stop: Anthrax tour bus outside a Doubletree hotel on Interstate 35 in downtown Austin (next to Denny's) where we deposit Bush and Kyle, but not without first hanging around and grubbing leftover pizza (the rest of the band is already checked into the hotel). Thank you! Goodnight, Austin!
DAY THREE: I don't know it yet, but today I will be scarred for life. Jason scoops me up and we drive to Killeen where we meet up with Bush and Anthrax to relive the previous night's hilarity. Everyone survive last night? Yep. Great. Later tonight it's back to work as Anthrax gears up for the metal-starved troops stationed at Fort Hood and the rest of the Killeen headbangers who rarely get paid a visit by such a bonafide legendary metal band. Meanwhile, the gig venue is located next to (what else?) a strip club and, as it turns out, both establishments are owned by the same guy who happens to be a metalhead and a big-time Jason McMaster fan (Dangerous Toys had recently played the venue where Anthrax is setting up tonight). Being a generous host, the guy takes us to the strip joint where we shoot pool and take advantage of free drinks. It's daytime so the place is empty except for a few employees and a girl who is obviously one of the club's "entertainers." As we're hanging out, I overhear the girl detailing her recent breast implant procedure. Nothing shocking. As she talks, she seems to be getting agitated. Hmmmm. Turns out she is sick of the post-surgery stitches beneath her breasts and wants them removed pronto! Huh? Then, in a move that is clearly against doctor's orders, the girl lays back on a nearby pool table, lifts her shirt and has one of the club's bouncers go to work on her with a pair of wire cutters. Holy crap!! Is anyone else getting this??!! It was all over in just a couple minutes, but the visual has been burned in my brain for 11 years. Okie dokey!
NIGHT THREE: With due respect to Anthrax, the most memorable moment of the Killen gig was the girl on the pool table. And by memorable, I mean the "car-crash" sense of the word. Nonetheless, the show was packed, the crowd went nuts and Bush was clearly back on his game after the previous night's Red Bull/vodka stampede. Post-show, we returned to the Anthrax tour bus for a final farewell party. Bush gave me and Jason a couple of Anthrax T-shirts and sent us home with tubs of leftover catering (I've long since learned to be leery of backstage catering, but Jason trusted Anthrax so who am I to argue?). All in all, it was just another boring weekend with nothing better to do. Ho-hum.