BROKEN TEETH ROCKS THE BOAT AT 5:45 P.M. SHARP, THURS., NOV. 11 AND 1:30 A.M. FRI., NOV. 12
By Meteal Dave
A shipload of rock'n'roll sets sail Nov. 11-14 when the annual ShipRocked cruise launches from Ft. Lauderdale, Fla. and makes its way to ports in Nassau and Coco Cay Bay, Bahamas.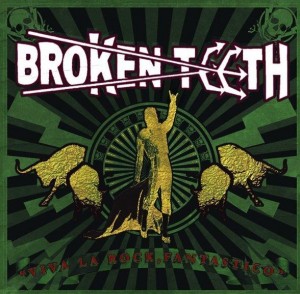 On a bill that includes some of the biggest names in rock, the must-see set belongs to Austin-based headknockers, Broken Teeth. Kicking more ass than ever on the strength of new album "Viva La Rock Fantastico," Broken Teeth rocks the boat at 5:45 p.m. sharp Thursday in the Pigalle Lounge and then plays a second set the next evening at 1:30 a.m. on the cruise deck. There will be plenty of time for taking in the waves, so start your party first with Broken Teeth at the Pigalle Lounge kick-off gig.
"Last year we did ShipRocked with Tesla, Queensryche, Ratt, Skid Row and others," said Broken Teeth singer Jason McMaster. "Some of those same bands are returning with us this year and we're adding Cinderella, Vince Neil, Sevendust, Drowning Pool and others to create ShipRocked 2010. People from all over the world congregate for this thing. We kicked it off last year and we are kickin it off again in the same fashion. Three stages, staggered time slots and a three-day mayhemic blast of rock'n'roll on the Atlantic."
For more info on Broken Teeth and ShipRocked, go here.
To hear Broken Teeth music, go here.
For an announcement on Broken Teeth singer Jason McMaster's induction into the South Texas Music Walk of Fame, go here.
To get your Teeth kicked in, click below!