For a guy who burst onto the scene like a Human Resources wrecking ball, Billy Milano is actually a fairly mild-mannered gent (or at least he is to me). Debuting some 25 years ago as the barking-mad, politically incorrect, psycho loudmouth for seminal crossover thrashers, Stormtroopers of Death (S.O.D.), Billy and his backing band (Anthrax) would have — in more ways than one — made for a disastrous, meet-the-parents dinner date when they released their defiantly unapologetic, intentionally offensive and — let's face it — pretty darn humorous milestone 1985 album, "Speak English or Die."
These days, the man who once shouted "Pussy Whipped," "F**k the Middle East," "Kill Yourself" and other ditties that won't be confused with Christmas carols, lives in Austin (about five minutes from my house, actually) where he works at one of my favorite punk-rock dives, Headhunters. If you would have told me 25 years ago that the ranting New York voice bellowing for "Milk" on "Speak English or Die" would today greet me by name along with a handshake and a pat on the back, I'd have told you to lay off the rum and Cokes.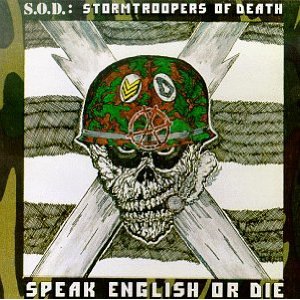 Maybe time, age, perspective and geography can change a man (me, included). More likely, Billy was probably more misunderstood than not (especially his acidic sense of humor), and frankly just never cared to turn down the bluster in order to explain himself through polite conversation. At the end of the day, Billy probably still doesn't care what you think. In fact, I'm fairly certain he doesn't. All I know is I always look forward to seeing him at Headhunters and still get a kick out of knowing my circle of friends includes the infamous "Sargent D."
NOTE: I conducted the following interview with Billy in 2007 and tried to learn more about the lighter side of the hardcore heavyweight. You may learn something, too.
SPEAKING PLAIN ENGLISH WITH BILLY MILANO
As the self-described Captain America of hardcore metal, Billy Milano has never much cared for shielding the world from his blunt-force views.
"Simply put, I'm speaking truth to power," says the transplanted New Yorker who now resides in Austin. "The masses of people in the world have never earned anything. They have forgotten the values of their fathers and grandfathers, and are under the impression that they deserve everything the world has to offer simply because they were born. Well, I disagree! The world doesn't owe anybody jack shit!"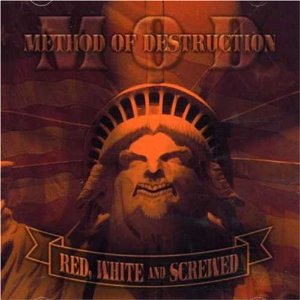 That sentiment is alive and foaming at the mouth on Milano's new aggro-stomp Method of Destruction (M.O.D.) album, "Red, White and Screwed." Waving his true colors as fiercely as ever, the man who helped invent crossover thrash with the highly controversial and influential 1985 Stormtroopers of Death (S.O.D.) album, "Speak English or Die," is sure to once again raise eyebrows with new song titles including "Balls on Bread," "The Big It" and "Jose Can You See."
"I have always been and always will be a proud American," Milano says. "My father liberated death camps in WWII and my Uncle George won the medal of valor presented by General George Patton after the Battle of the Bulge. I understand the value and dignity that comes with being the son of a war hero. I don't care if people label me a racist or a homophobe. They can say what they want. I have black friends and Mexican friends, and I know people who are gay, and I couldn't care less. I have some bigoted points of view, I admit, but I also believe everyone does to a degree."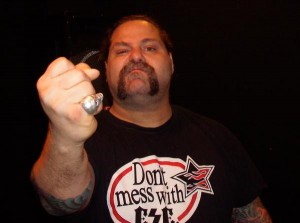 Calling "Red, White and Screwed" the best album he's done since "Speak English or Die," Milano says it also signals a personal and creative turning point.
"I played bass on the record, which is my true calling," he says, noting that credit also is due to M.O.D. guitarist Scott Sargeant and drummer Derek "Lennon" Lopez. "It's a great record, and more importantly, it's the last M.O.D. record. I want it to end on a high note. I will always do M.O.D. live, but the band will never have an official release ever again."
Instead, Milano will focus on playing bass in his band, Anthem, while also launching a video editing business and working as a producer and concert promoter at Headhunters on Austin's Red River Street. He also plans to explore a quieter pursuit.
"I actually hate singing," he says. "I like entertaining and being the center of attention, and I think spoken word may be in my future at some point. I need to express a side of me that people only catch a glimpse of during live shows and in interviews."
The infamous side of Milano, of course, has been well documented in all its furious bluster. From the now-platinum "Speak English or Die" album, which also featured Anthrax members Charlie Benante, Danny Lilker and Scott Ian, to subsequent S.O.D. albums "Live at Budokan" and "Bigger Than the Devil" (featuring hilarious cover art spoofing Iron Maiden's "Number of the Beast") on through earlier M.O.D. albums, including "U.S.A. for M.O.D," "Surfin' M.O.D." and "Gross Misconduct," among others, Milano has spewed his share of venom, but also has displayed a brutal sense of humor that is often overlooked.
"Some people are too serious to laugh at life," Milano says. "Life is a cruel and sometimes callous adventure that you stumble, fall and suffer through. It also is a wonderful, happy and joyous chain of events. I choose to love life. I love my friends, I love my family, I love music, I love my dogs, I love swimming at the greenbelt and I love life in Austin."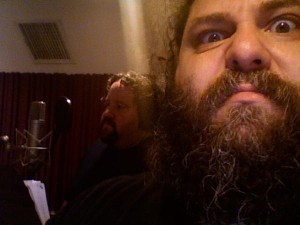 And how else does the "300 pounds of fist-fighting fury" get his kicks when he's not lacing up the steel toes to steamroll through M.O.D. rants and S.O.D. classics like "Pussy Whipped," "Kill Yourself" and "Fuck the Middle East"?
"I love wine, Cuban cigars and cooking," he says. "I've been told I'm a fantastic cook. I love to celebrate the holidays by cooking for my friends and inviting people to dinner who don't have local family. I've cooked for 40 people at Thanksgiving before. The holidays are coming and I'm preparing a great Thanksgiving dinner."
Mmmmmm. Turkey Day is on the way and Milano is serving the bird. Aren't you hungry?
A FEW LAST (CHOICE) WORDS WITH BILLY MILANO
On his relationships with former S.O.D./Anthrax members Danny Lilker, Scott Ian and Charlie Benante:
"Danny and I speak on occasion. He is doing his own thing and is happy, and I'm happy for him. Scott and I e-mail each other once in a blue moon, but I have no desire to talk to Charlie. He is the most evil woman I've ever met."
On Anthrax playing musical chairs with singers Joey Belladonna and John Bush:
"Anthrax is over. End of story!"
To learn more about Billy Milano, M.O.D. and Anthem, visit www.billymilano.com.
To see modern-metal heavyweights Lamb of God invite Billy onstage to sing S.O.D.'s anthem, "United Forces," click the video below. For "Speak English or Die," click the following video.
[youtube QxKCTrVX-XY]
[youtube ZyJoVpL-Cl4]