As someone who remembers buying "Back in Black" as a brand-new vinyl album when it was released in 1980, I can recall the days when rock magazines were as close as you got to meeting your favorite bands. Before MTV, Google and YouTube, there was Creem, Circus and Hit Parader.
Naturally, I collected and studied these magazines — along with Metal Edge and RIP –like they were maps to hidden treasure. To this day, there are boxes in my closet featuring lunch-money cover boys like Dokken, Ratt and Whitesnake.
Knowing I'd unlikely become the next Van Halen (or Bang Tango), I ultimately gave up my rock-star dreams and took the advice of my English teachers who often encouraged me to pursue writing. I eventually got a degree in journalism, landed some steady newspaper gigs and by 2000 I was a regular freelance contributor to Metal Edge. It didn't pay the bills (freelancing rarely does), but interviewing bands and writing about rock-n-roll for an international audience (and for a mag I religiously read as a teen) was, admittedly, pretty rewarding.
During my 5-year stint, I interviewed and wrote multi-page features on Rob Zombie, Sammy Hagar, Slash, Slayer, Josh Todd, Everclear, Anthrax, Bret Michaels and others. I also was able to give invaluable exposure to such personal and deserving lesser-known favorites as the River City Rebels, Supagroup, the Toilet Boys, the Dragons, Pitbull Daycare and Crank County Daredevils. My year-end recap pages were always a blast to compile and my hilarious interview with Ozzy Osbourne guitarist Zakk Wylde even landed as a cover story (pictured above). Unfortunately, bitching to get paid by Metal Edge and most every other understaffed magazine I ever wrote for, required more effort than the actual writing (which is like cooking a gourmet meal only to have your silverware held hostage). My newspaper gigs didn't offer the same glossy "glamour" as the mags, but at least the check was in the mail!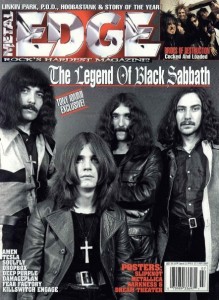 In the end, Metal Edge was great experience and exposure. In some respects it also was a dream come true for a kid who collected rock magazines during their heyday before the Internet. It wasn't Rolling Stone or "Almost Famous," but it was pretty cool to walk into any bookstore in any city and find my name at the top of the page.
And for the record, I was ultimately paid in full. Better late than never.
Metal Edge (1985-2009)