GREAT BALLS OF FIRE!: Danny B. Harvey, Lemmy and Slim Jim Phantom revisit some golden oldies rock on their HeadCat album, "Walk the Walk … Talk the Talk."
It's admittedly hard to hear beneath the crush of deafening distortion, but there's a lot of Little Richard in the roar of Lemmy Kilmister.
A die-hard fan of sock-hop rock, Motorhead's Lemmy revisits the era of hair grease and hot rods on the new HeadCat album "Walk the Walk … Talk the Talk," featuring former Stray Cats drummer Slim Jim Phantom and rockabilly guitarist Danny B. Harvey. If you've seen the "Lemmy" movie (and shame on you if you haven't!), you've heard snippets of these 'Cats woven throughout the script.
Showcasing a pair of original numbers along with a collection of oldies rock covers, "Walk" finds the super trio paying homage to the likes of Chuck Berry ("Let it Rock"), Frederick Heath aka Johnny Kidd ("Shakin' All Over"), Eddie Cochran ("Something Else") and Webb Pierce ("I Ain't Never") among others.
Opening track "American Beat," is a Motorized salute to the earliest wave of devil music. Penned by Kilmister, Phantom and Harvey, the track is a twisting shouter with a contagious call to "Dance!" that's barely two steps removed from Lemmy's hammering day job.
The second 'Cat collaborative is a slow blues crawler called "The Eagle Flies on Friday." Building from a whisper to a slide-guitar eruption, "The Eagle" sounds like Stevie Ray Clapton channeling the great Delta demons who long ago sold their souls for our future listening pleasure.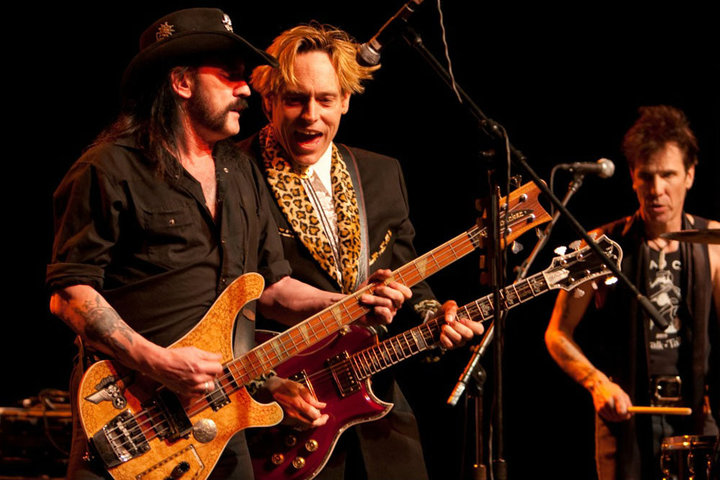 "Say Mama," "Bad Boy," "Trying to Get to You" and "It'll Be Me" are all dance floor skirt-twirlers that likely garnered Wolfman howls back in their happy, heydays.
Lemmy, of course, has always been a steadfast Beatles fanatic so it comes as little surprise that HeadCat takes a fab stab at "You Can't Do That." And much like they do in concert, Lemmy, Phantom and Harvey close the album with Robert Johnson's cream-of-the-crop classic, "Crossroads."
Besides being a good record by three of rock's most qualified 'Cats, "Walk," also offers a rare glimpse into the (slightly) softer singing style of Motorhead's growling Marlboro man. More importantly, "Walk" reminds us that even the heaviest of metal and the hardest of rock owes its pulse to the golden oldies.
Overall Grade: B-
— by David "Metal Dave" Glessner aka 2Fast2Die
To listen to HeadCat tracks on facebook, click here

Watch the 'Cats swing on Larry Williams' 1959 song, "Bad Boy," below
[youtube h9lEMm36-WI]