BEFORE THE 'DOOKIE' HIT THE FAN: Interviewing Green Day bassist Mike Dirnt "backstage" at Lollapalooza 1994. A few months after this photo was taken, the unknown band became international superstars on the strength of the smash album, "Dookie." The rest, of course, is multiplatinum, millionaire, rock-star history.
Seventeen years ago this month, I was working as an advertising writer for the Galveston Daily News when I was suddenly recruited for what still ranks as my best-ever "day at the office."
While going about my business of writing fluff pieces to satisfy advertisers, the newspaper's assistant managing editor stopped by my desk and asked if I was familiar with something called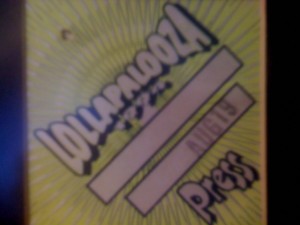 Lollapalooza. My Ramones photos must've branded me guilty (not to mention my "outrageously long" hair). "Sure," I replied. "Lolla's in its fourth year now."
Apparently, his teenaged son mentioned Lollapalooza over dinner one night and the enlightened father was quickly convinced our newspaper had to cover this cutting-edge music festival that was blossoming into a mainstream youth-culture phenomenon. Continuing his moment of full disclosure, he went on to admit that nobody on his Editorial staff (i.e. the "real" journalists) felt qualified to capture the story with any real authority.
Forsaking any ego and holier-than-thou newsroom "protocol," the editor then bravely did the unthinkable (if not unforgivable) and nervously asked if the lowly advertising writer would be interested in reporting from Lollapalooza when it arrived in Baytown outside of Houston. Hmmm. Take a paid road trip to rock out and write about the Beastie Boys, Smashing Pumpkins, L7 and an unknown (not to me) opening act called Green Day? OR, suffer through another soul-sucking puff piece heralding the newest arrivals at Aunt Bessie's Bridal Boutique? Hold, please, while I check my schedule.
As the big bosses not-so-secretly crossed their fingers and cautiously entrusted me to get the story, I was reminded over and over (and over again) that the assignment was NOT a concert review, but rather a NEWS story that would depend on multiple voices and interesting perspectives to make it suitably well-rounded and worthy of our sacred Editorial blessing. "I got it, I got it!," I said to myself. "I DO have a degree in journalism! Gawd!"
On a mission to validate my worth, I arrived at Lollapalooza with a homemade poster board sign that basically served as a billboard announcing my need for anecdotes. People being attention-starved lambs, I was soon interviewing a flock of willing punk-rockers, Moms, food vendors, medical staff and even a few kids who were following the tour all over the state. By the time I slipped backstage to interview the soon-to-be-huge Green Day (take that, "real" journalists!), I was confident I had the story more than sufficiently covered.
Racing against deadline in the days before laptops, my photographer and I bolted to a nearby "sister" newspaper to file the story and process the photos. The pressure to write a great article was even more excruciating knowing the doubtful editor on the receiving end surely had dismal expectations. Oh well, let 'er rip!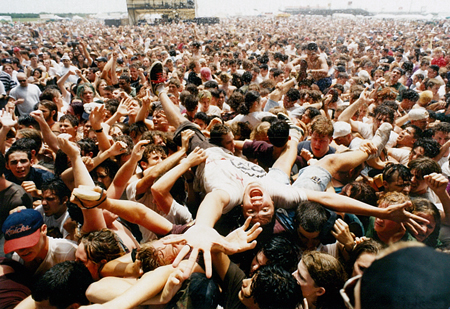 I sent the story and waited for the dreaded phone call. Ring! Hello? "Dave? Listen, I'm having some trouble here," said my editor. Uh-oh. "I realize I may not be up to speed on all this, but could you maybe please do me a big, BIG favor and, um, perhaps clarify what the word moshing means? Oh and, um, other than that, this is FAN-TAS-TIC!"
How fantastic? My Lollapalooza story plastered Page One of the next day's Galveston Daily News (not to be confused with Rolling Stone). The publication date also happened to be my proud Mom's birthday (Aug. 20), which made my small victory that much sweeter.
Not a bad day at the office for a lowly advertising schmuck.
[All photos by Kevin Bartram with special thanks to Heber Taylor for being one of the good guys]